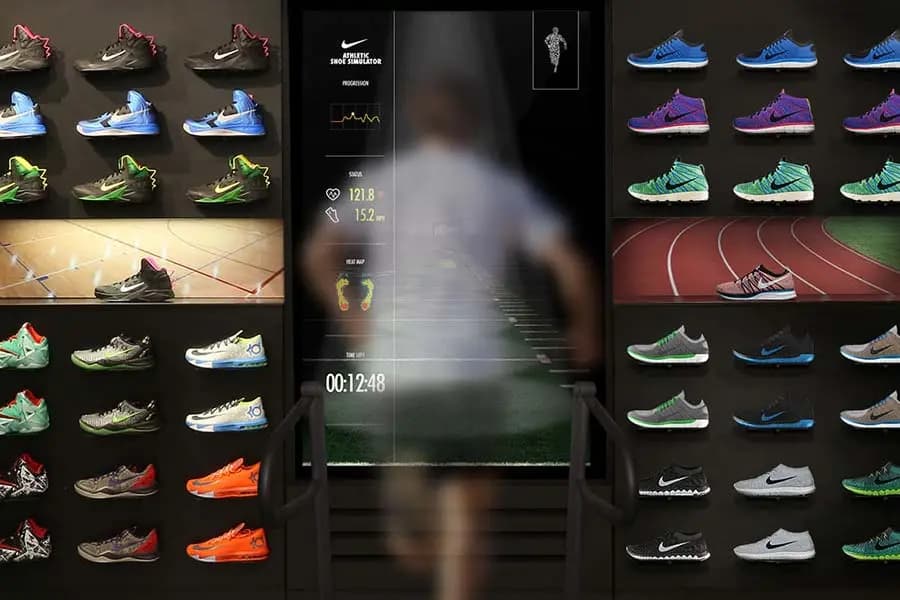 Create an omnichannel user experience to capture, convert and retain loyal customers
---
We ensure that you can follow your target audiences throughout their customer journey — from social media, to email, to SMS — and that they have a superior and memorable retail and e-commerce experience.
Trusted experience
---
Over the past 11 years, our experts have crafted experiences that have delighted over 100 million users, and delivered over $1 billion in revenue.
Stand out in a crowded retail and e-commerce landscape.
With more consumers relying on mobile devices during shopping trips, digital is expected to influence nearly 60% of all retail sales by 2023.

Scalio can help your retail and ecommerce business cut through the noise and reach your consumer with a multiplatform strategy. We help our clients develop scalable and customized digital retail experiences across multiple platforms to reach the right customers, at the right time.
Custom CMS Development
We develop a fully custom CMS to create a distinctive, streamlined and seamless ecommerce experience for your customers. We can help you optimize every aspect of your CMS, including: integrating social media and payment services, improving checkout workflows, developing reviews and customer loyalty programs and advanced personalization and customer segmentation based on real-time behavior.
Native & Cross-Platform Development
Today the customer journey ranges across multiple devices and multiple platforms. Scalio will strategically develop an omnichannel user experience with unique, platform-specific messaging that will set you apart in the highly competitive retail and ecommerce landscape.
Backend/API Engineering
Customers expect high performance, ingenuity and security from retailers. Scalio will ensure you can deliver on all three with seamless backend integration and the ability to carefully manage your shoppers' digital journey.
AR, VR and Mixed-Reality
We're prepared to make bold, creative moves to give you an edge and your customers a one-of-a-kind shopping experience. While many companies are aware of AR technology, 61% don't currently use it, even though 71% of customers would return more often to a store that offered an AR experience.
Our work in Retail and ECommerce
Scalio helps retail and ecommerce clients across a variety of categories optimize their digital offerings and capture more customers. Here are some of our areas of focus.
WORK
Advancing technology

for ECommerce & Retail clients like these
We partner with visionary startups and large corporations to design and craft secure, engaging platforms built to scale and create value from day-1.
BLOG
ECommerce & Retail

Insights
Feedback and sharing of knowledge is part of our culture at Scalio. Here are some best practices and resources to help you achieve the extraordinary.
Contact us
Submit your contact information, and introduce yourself - we're excited to meet you!
Follow-up
A friendly managing partner of the Scalio team will follow-up with an email. We're never automated or spammy.
Informal chat
Have an informal 1-on-1 virtual call with one of our partners to talk through your opportunity, challenge and solutions. Take away valuable insights, recommendations or strategic guidance.
Requirements
Collaborate with our Product Solutions Team to define the basic scope, dependencies and level of effort for your project.
Contract
Our simple, straight-forward digital contracts ensure you get the resources you need, within your valuable timeline.
Project kickoff
Let's build something great together.
Send us a message. We'd love to chat.
What our ECommerce & Retail clients say...
This is a team I can trust. Their professionalism, quality of work, and technical chops are what give me confidence in recommending them to groups within my own company, as well as anyone in general need of a solid product development team.

Mike SchierberlEngineering Manager at Airbnb
Scalio is always my first call when we need assistance on a project. Every member of the team is willing to go the extra mile when issues arise or requirements evolve. Their combination of professionalism, responsiveness, and technical ability is unmatched and I would highly recommend them for a software project of any size.

Brit MorinCEO at Brit+Co
The best decision I've made for my business is partnering with Scalio. They created a web and mobile bidding platform that helped us to revolutionize our brick-and-mortar live Auction business, which ultimately led to greater client and employee satisfaction (more sales and less attrition.)

Robert VogtCEO at Vogt Auction
Scalio demonstrates expert-level design and development capabilities. They've built a robust mobile platform with video streaming capabilities that outshines the competition. Looking forward to our continued relationship.

Greg ComminsCEO at Three Sages
We partnered with Scalio because of the track record of their team. Due to the bleeding-edge nature of the technology stack, we knew Scalio was the right team to turn to for helping us push our ideas into reality.

Les KarpasPresident & Co-Founder at Lexset
They could use a plant or two in their San Francisco office, but who has time to water when they're busy building great software for clients. I recommend Scalio to anyone in need of a fantastic team.

Daniel M.CEO at OrangePiel
Previous
Next